December 7, 2020
These Sturdy Face Masks Will Help You Brave the Cold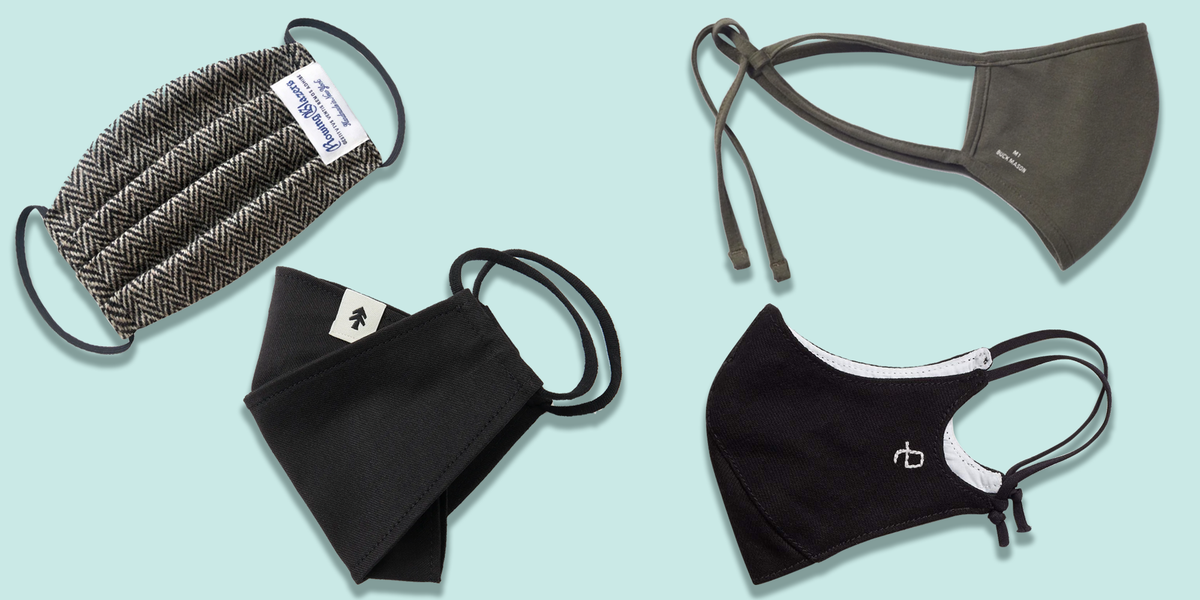 It's a bitter pill to swallow, but the novel coronavirus pandemic is far from over — and will be affecting our communities throughout the winter season into 2021. We're all more accustomed to wearing masks now than we were when COVID-19 first upended our routines in March, but it's the first time that many will face bitter winter weather while needing a mask. Before you ask, yes: You should be wearing a face mask each time you head into a public space this winter. The Centers for Disease Control and Prevention recently updated their definition of "close contact" for COVID-19 risk, evidence that illustrates how important it is for people to keep social distance and wear personal protective equipment (PPE) this winter. And that's in addition to the expected increase of new COVID-19 cases due to cold winter weather (which pushes us all indoors!), a drier climate for infectious viruses to spread easier, and the possibility that our immune systems may be already challenged by common colds and the flu.
There's a bit of a silver lining: Research suggests that tightly woven fabrics, particularly cotton, make for the most effective material for face coverings. Most of our fabric masks have indeed been made with cotton, but in the summer months, you likely shopped for moisture-wicking options that were as light as possible. Now, those who are always freezing can reach for masks that are triple-layered and more hefty, including options which cover more skin beyond your nose and mouth, and sit firmly against your face. Officials at the CDC still recommend choosing (or making!) a mask sourcing tightly woven cotton materials, but any mask that fully covers your nose and mouth, covers your chin, and can be worn or tied against your head, neck, or ears is better than none at all for heading outside.
The best face masks for winter are made to cover more of your face, creating a tight seal against your cheeks. If your ears are sore from mask fatigue, it's also a good time to try a mask that ties or sits against your crown or the nape of your neck; they may work against any cheek gaps to keep gusts of wintry air out. Selecting a rugged, tighter cotton knit for your mask is important as well, and even those that may be lined with extra layers for comfort.
With the help of the Good Housekeeping Institute's Textile Director Lexie Sachs, we're highlighting the best winter face masks that'll keep you warm if you spend lots of time outside. Most are designed in a surgical style, but some include variations that add things like scarfs, ear muffs, and even head wraps into the mix. Just like in warmer weather, if you know you're going to be outside for many hours at a time, bring an extra face mask along: Cold temperatures aren't fun when the breath condensation in your masks soaks through inner layers, as a dry mask will feel simply toasty in comparison.
A note on neck gaiters and ski masks:
Current research is divided on whether gaiter-style face coverings can effectively prevent the spread of SARS-CoV-2 airborne particles. Research published in Science Advances, spearheaded by scientists at Duke University, found that polyester and spandex-based neck gaiters aren't as effective as cotton-based face masks (or medical options). Their findings suggest that simply talking or breathing heavily may, in fact, create more individualized droplets or particles compared to other options. Since then, a team at the University of Georgia conducted their own study and determined that gaiters may provided a similar level of protection when compared to other cloth-based face coverings.
You should abide by any rules or policies outlined by local businesses and government officials, but err on the side of caution if you choose to wear a gaiter yourself. Selecting a cotton-based gaiter may be best. Only wear ski masks if you plan take a break in an outdoor space where you can remove a face mask, as wearing both may cause shortness of breath over a longer period of time (especially if you are active). We'll update this guide with more information as necessary.
1 2 in 1 Cold Weather Adult Face Mask
PureAir Face Masks etsy.com
$22.00
The ear loops on this mask has a sewn-in pair of fuzzy earmuffs to keep your ears warm. The cotton and polyester blend fleece interior lining will also feel like a warm hug in cold temperatures.
2 Kingston Scarf Mask
While it's easy to layer a scarf atop any of your face masks in a hurry, we love this stylish solution that combines a mask and scarf in one. It's made from leftover cotton in two different prints for a clean look.  
3 Everything Face Mask
Brixton brixton.com
$16.00
This mask comes with a handy neck lanyard-esque feature that makes eating and drinking easier than ever. But the interior's bamboo viscose lining is quite smooth and cozy, without being too hefty or fuzzy to actually blocking you from breathing.
4 Alewa Mask, Wrap and Neckpiece Set
Akese akesestylelines.com
$85.00
We love how this designer added the functionality of a matching hair wrap and optional neckpiece alongside a cotton-based face covering. While they are two separate pieces, the mask comes in multiple sizes for correct sizing, and a corresponding neckpiece can also work to shield exposed skin from the cold.
5 The Wake Up & Fight Mask
Hedley and Bennett hedleyandbennett.com
$45.00
Designed with the help of an orthopedic surgeon, this adjustable mask has been enforced with extra stitching to ensure it doesn't stretch over time. It's equipped with a filter pocket, but we love how its designed to tuck beneath your chin entirely, protecting you from the elements.
6 Tri-fold Woven Face Mask | 2-Pack
Huckberry huckberry.com
$18.00
A pop-up nose bridge helps to keep a cotton mask off of your mouth directly, meaning it won't become saturated as quickly as other face masks.
7 Olive Face Mask
Buck Mason buckmason.com
$821,340.00
Equipped with a hybrid ear loop turned neck tie, this mask is made with a triple-layer cotton jersey blend and is finished with a manufacturer's anti-microbial coating. But the pima cotton lining on the inside is quite soft on cold days. 
8 3D Knit Mask, Charcoal Grey
Tailored Industry bespokepost.com
$30.00
There's room for a filter as well as an adjustable nose clip, but this knit-style mask is warm without being overly stifling. The viscose and lycra infused fabric here is key. 
9 Herringbone Face Mask
Rowing Blazer rowingblazers.com
$25.00
These tailors took the materials they normally use for structured coats and blazers to spin into a stylish mask. Since wool is much heavier than pure cotton, it'll be quite warm in comparison; but keep an eye on whether or not it feels really breathable for you over longer hours of wear.
10 The Stealth Mask Pack
Rag & Bone rag-bone.com
$55.00
Made from upcycled fabric, the rugged cotton exterior that Rag & Bone uses in these "stealth" masks are much more substantial than cotton poplin used in summer-friendly masks elsewhere.
11 Navy Easy Mask
Someone Somewhere someonesomewhere.com
$19.00
The ear loop bridge secures to the back of the neck, relieving the pressure off your ears while ensuring the mask is tight to your face. With a multi-blend of polyester, cotton, and viscose, the exterior is much softer and cozier than others on the market.
12 Soft Fleece Face Mask
American Blanket Company americanblanketcompany.com
$39.00
It's fuzzy on the outside, but this mask stays warm on the inside thanks to additional polyester lining. Since it's not a cotton base, however, this mask might not be best for long hours outside — a quick errand is best.
13 Single Cord Face Mask
Stephen Kenn myshopify.com
$28.00
Modeled after the build of a medical-grade respirator, this cotton canvas mask has 4 layers in total — two up front, and two layers of filter material that precedes a cotton lining. Simply secure it to the back of your skull using the pinch tie system shown here. 
14 Sentry
Rendall Co. rendallco.com
$19.00
With enough material to also cover a surgical respirator, this two-layered cotton mask is tightly woven and can cover most any chin entirely. There's an embedded copper nose band that bends to secure around your nose, too, as well as a pocket for an optional carbon filter.
15 Reusable Cotton Face Mask
The added nose and chin straps on this otherwise sturdy cotton canvas face mask makes a world of difference. It ensures your mask won't slip while out and about, all while covering more of your face — especially since it's secured with ties in place of ear loops. 
16 Kangol Face Mask
For a brand known for its caps, it's no surprise that this mask fits perfectly without creating extra pressure on the wearer — all thanks to a pinch-tie fastener at the back of your neck. If you live in an area where the temp hovers above freezing but below sweater weather, this mask is for you.
17 Fleece Bamboo Face Mask
HandmadeByAVO etsy.com
$18.99
The inner lining is made with a bamboo cotton, which is quite cozy, but the real draw here is the customization on size. The ear loops are equipped with adjustable stoppers, and this Etsy seller makes the mask in a handful of different sizes (including an XL!).  
18 Adult Four Layer Adult Mask Scarf
MALI + LILI nordstrom.com
$40.00
The scarf on this cloth face mask is more like a kerchief than anything else, but it can help keep your neck warm — or your head warm, depending on how you tie it!
19 The Purple Face Mask | 2-Pack
Shop Now purple.com
$20.00
Purple's size offerings make certain that you'll never end up with a too-small mask, and three layers of pure cotton ensure breathability while providing coverage than other masks. 
20 Organic Cotton Face Masks
Avocado Green Mattress avocadogreenmattress.com
$30.00
It's a simple cotton blend, but the sizing of the mask covers more of your cheeks and under your chin than traditional models. Tie it tight against your neck and hair to brace against cold wind.
Zee Krstic Associate Health Editor Zee Krstic is a health editor for GoodHousekeeping.com, where he covers the latest in health and nutrition news, decodes diet and fitness trends, and reviews the best products in the wellness aisle.
This content is created and maintained by a third party, and imported onto this page to help users provide their email addresses. You may be able to find more information about this and similar content at piano.io