December 7, 2020
These Hand Sanitizers Are All Guaranteed To Blast Away Germs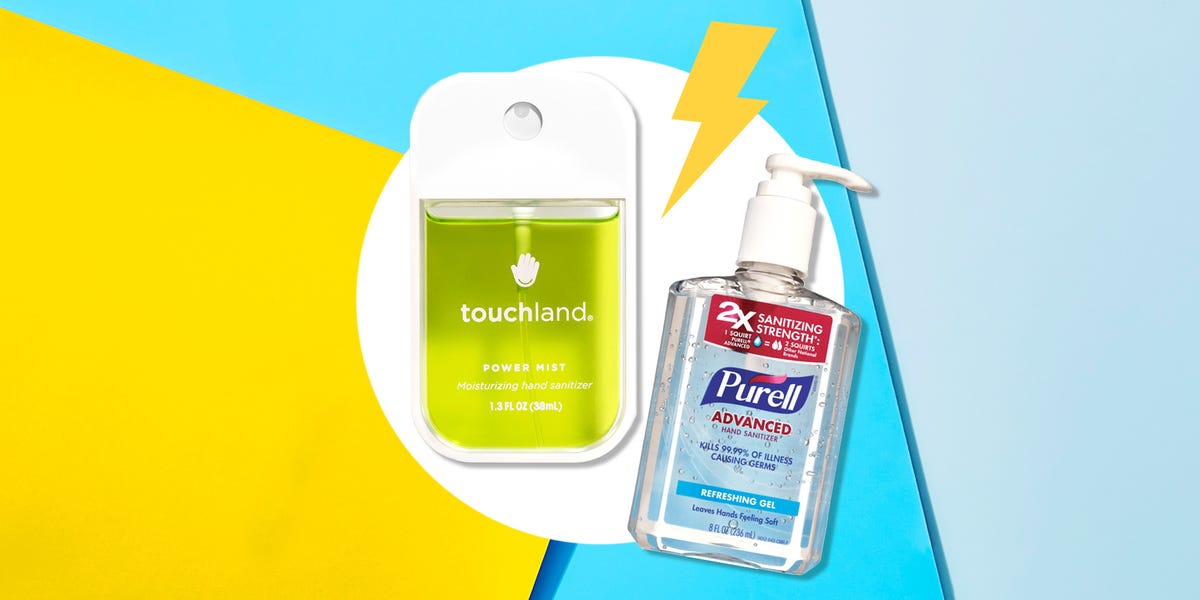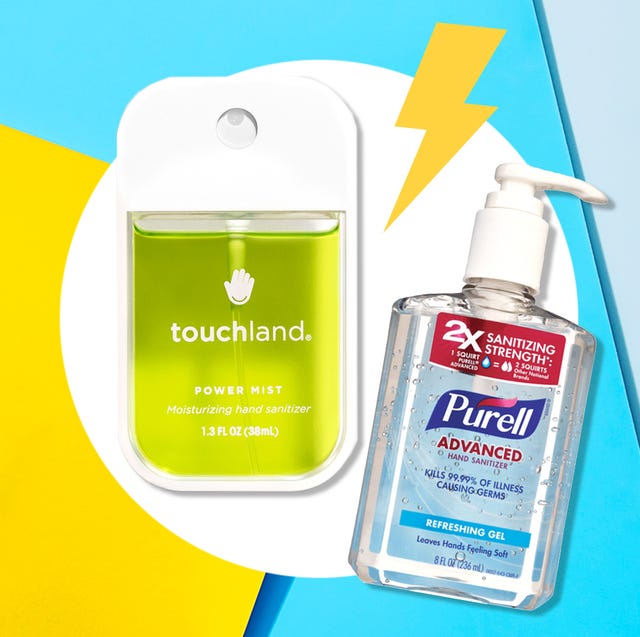 Touchland / Walmart / Christine Giordano
While washing your hands with soap and water should be your go-to, hand sanitizer does work in a pinch. Let's face it, sometimes you don't have soap or a dependable sink sitch—and that's where hand sanitizer sparkles. In those circumstances, hand sanitizers are a pretty solid backup plan, according to doctors and the U.S. Food and Drug Administration (FDA).
"Hand sanitizer is a good way to disinfect when you don't have access to soap and water between hand washes," confirms Dr. Andrew Alexis, MD, chair of Mount Sinai's department of dermatology. Still, you've got to use the stuff correctly, check the expiration date, and make sure it contains the right ingredients. "Alcohol-based sanitizers with 60 percent alcohol or higher are best at killing many types of germs," says Alexis. If your bottle contains any less than that, it may reduce growth of germs but not kill them. The CDC confirms a high alcohol content (also at least 60 percent) is required to kill germs.
When you're buying a hand sanitizer, the first thing to look for is one of these three active ingredients on the label: ethyl alcohol, isopropyl alcohol, or benzalkonium chloride. "Other active ingredients may be ineffective," says Alexis. Those ingredients all indicate that the formula contains alcohol, and as long as it hits that 60 percent mark, you're covered.
Steer clear of hand sanitizers containing other potentially dangerous types of alcohol. The U.S. Food and Drug Administration (FDA) shared a new warning against using hand sanitizers manufactured by the Mexico-based Eskbiochem SA de CV due to potentially toxic alcohol, in a report published on June 19.
Here are the best hand sanitizers you can find on shelves and online in 2020.
1 Purell Advanced Hand Sanitizer (3-Pack)
With 70 percent ethyl alcohol as the active ingredient, Purell has one of the highest alcohol concentrations of any of the recommended hand sanitizers on this list.
2 Megababe Squeaky Clean Hand Sanitizer
Cleanse and condition hands on-the-go with this pocket-size sanitizer. It has 62 percent ethyl alcohol as well as the light and citrusy aroma of bergamot and orange.
3 Hand Sanitizer Spray (Pack of 3)
Fleur & Bee fleurandbee.com
$12.00
Germs stand no chance against the 75 percent isopropyl alcohol mist. The Fleur & Bee formula targets germs and bacteria without drying out hands thanks to moisture-retaining glycerin.
4 Power Mist Moisturizing Hand Sanitizer
Touchland ulta.com
$12.00
This handheld spray bottle makes sanitizing easy and chic. It spritzes moisturizing oils, like lemon and lime essential oils, along with germ-fighting ethyl alcohol at 67 percent.
5 Steel Tie Hand Sanitizer (4 Pack)
Steel Tie Spirits steeltiespirits.com
$32.00
The West Palm Beach-based distilling company switched from producing booze to hand sanitizer. The result is premium 80 percent alcohol hand sanitizer with serious germ-killing power.
6 Faber Hand Sanitizer – 1 Liter
Faber Distilling Co. artintheage.com
$10.00
Faber Distilling's new hand sanitizer formula follows World Health Organization guidelines with 80 percent alcohol. It comes in a traditional glass spirits bottle with "Do not drink" marked clearly on the label. It will also be distributed to hospitals, police departments, fire departments, and more frontline workers in Pennsylvania. 
7 Humankind Hand Sanitizer
By Humankind byhumankind.com
$15.00
By Humankind's new hand sanitizer kills germs with 65 percent ethyl alcohol. It also comes in a recyclable aluminum bottle, so you can refill all your pocket-size bottles. Plus, $1 of each hand sanitizer sold goes to The Robin Hood Relief Fund, which helps provide emergency support in the New York City area.
8 Pipette Hand Sanitizer (8-fl oz, 12-pack)
Pipette amazon.com
$36.00
Thanks to 65 percent plant-derived ethyl alcohol content and sugarcane-derived squalane, this hand sanitizing gel moisturizes and kills germs. It's also free of fragrance and doesn't leave hands sticky or dry.
9 100% Pure Hand Sanitizer Spray
The 100% Pure Hand Sanitizer Spray is gentle on hands thanks to aloe vera and glycerin, but it's tough on germs. Not only does the formula contain 62 percent alcohol, it also has bonus antibacterial properties from tea tree oil.
10 SpaRitual Hand Sanitizer Spray
SpaRitual sparitual.com
$15.95
Formulated with just four essential ingredients (75 percent isopropyl alcohol, glycerin, hydrogen peroxide, and purified water), SpaRitual's new sanitizing spray is sustainable. Plus, the first 5,000 products will be donated to the homeless population in Los Angeles.
11 Clark's Botanicals Hand Sanitizer
clarksbotanicals.com
$10.00
Clark's has devoted all of its production capacity to hand sanitizer. Like the brand's other skincare products, the new formula is vegan, gluten-free, and cruelty-free. It's tough on germs, though, with 71 percent ethyl alcohol. 
12 CHI Organic Gardens Moisturizing Hand Sanitizer
The new hand sanitizer includes 77 percent ethyl alcohol and organically grown aloe to help soothe dry hands. Choose from multiple sizes for at-home or on the go. Chi also donated $1 million worth of hand sanitizer to the cities of Houston and Tomball, Texas.
13 Lather Hand Sanitizer
Lather's new hand sanitizer has a refreshing, citrus aroma from orange peel oil. It also contains 65 percent alcohol to kills germs and aloe vera, rose water, witch hazel, and yucca extracts help hydrate skin.
14 Breathe Hand Sanitizer Spray
breathesanitizer.com
$4.99
This 75 percent alcohol hand sanitizer features a handy continuous spray. It's powered by the air you breathe, so there are no harmful or flammable propellants here. It also boasts a two-year shelf life.
15 Hand Sanitizer Spray
The Honest Company amazon.com
$4.29
From Jessica Alba's clean beauty and home company come these aromatic sanitizing sprays. The scents include Coastal Surf, Free & Clear, Grapefruit Grove, and Lavender Field. Don't let the sweet smell of the plant-based formula fool you; the 62 percent ethyl alcohol is tough on germs. It's also hypoallergenic and dermatologist-tested.
16 Organic Hand Sanitizer – Lavender
Dr. Bronner's amazon.com
$12.77
This easy-to-use spray has the added calming effect of a lavender scent. It has 62 percent ethyl alcohol for fighting germs. The ingredients are USDA-certified organic, vegan, and not tested on animals.
17 Organic Hand Sanitizer Spray (6 Count)
Containing 62 percent alcohol from sugar cane, plant-derived moisturizers, and essential oils, this hand sanitizer kills germs and doesn't harm the environment. The lavender pure essential oil adds a subtle sweet scent.
18 Moisturizing Hand Sanitizer
Wellnesse wellnesse.com
$10.00
Soothing eucalyptus and moisturizing glycerin help hydrate big and little hands, while the 62 percent ethyl alcohol solution eliminates germs. It's all in a recyclable glass bottle.
19 Barr Hill Hand Sanitizer
Barr Hill also turned its distillery into a hand sanitizer factory. The topical solution is 80 percent alcohol to blast germs and comes in a variety of sizes. Grab a whole case to share with your neighbors.
Jennifer Nied Jennifer Nied is a contributing writer for Women's Health with more than 10 years of writing and editing experience, specializing in wellness, adventure travel, and fitness, with work appearing in Budget Travel, American Spa, Women's Health, and more.
This content is created and maintained by a third party, and imported onto this page to help users provide their email addresses. You may be able to find more information about this and similar content at piano.io